Norsk: Odd snakket med oss om «Elephant in the room» eller «Elephant in the living room» (norsk: «elefanten i rommet» eller «elefanten i stuen») er et engelsk metaforisk uttrykk for en åpenbar sannhet som ikke nevnes. Uttrykket kan også referere til et åpenbart problem eller risiko som ingen ønsker å diskutere.
Det var helt nytt for meg. Men kanskje dere kjenner ikke den nederlandske idiom om en annen elefant? = Elefanten i porselensskapet? Da snakker nederlendere om en person som ikke tar hensyn til andres følsomhet.
Nederlands: Ik zit nog steeds in de leiderontwikkelingscursus van het Rode Kruis. Die cursus wordt half juni afgesloten van 9:00 tot 15:00 met meer dan 55 deelnemers (Rode Kruisers) uit heel Noorwewgen.
In de tussentijd liggen mijn collega-cursisten slap van de lach, want ik blijk nogal te gooien met uitdrukkingen. Die vertaal ik 1 op 1 in het Noors en dan zie ik verbaasde blikken c.q. onbegrip.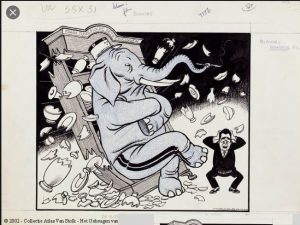 Nu kwam onze goeroe met bovenstaand plaatje: de olifant in de kamer.
Nu keek ik glazig op mijn beurt.
Inmiddels is er een traditie in onze groep: ik stuur een foto om ze prettig weekend te wensen. Deze keer met "De Olifant in de porseleinkast". Zitten er weer Noren met een verdwaasde weekend-blik, want… die uitdrukking kennen ze hier niet.