So long, Marianne; So long, Leonard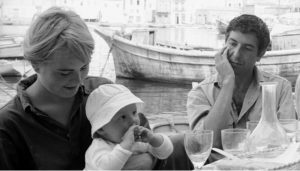 Leonard Cohen is deze week overleden. Een paar maanden na zijn muse, Marianne Ihlen.
Marianne is een Noorse vrouw, waardoor Leonard o.a. het lied "So long, Marianne" schreef en dat wereldberoemd werd.

Toen zij een paar maanden geleden overleed, zond de NRK, de Noorse radio waar ik naar luister, het enige interview uit dat Marianne ooit heeft gegeven.
Ik heb van het begin tot het eind gebiologeerd geluisterd naar dit interview, dat werd afgewisseld door de nummers die Leonard componeerde in de zeven jaar waarin hij met Marianne samenwoonde in Montreal.

Tijdens dit unieke interview van de NRK met Marianne, ontdekte ik dat nummers als "Bird on the Wire", "That's No Way to Say Goodbye" en "So long, Marianne" terug te leiden zijn tot zijn muse Marianne.
Ik hoorde voor het eerst dat Leonard de tekst voor het lied "So long, Marianne"  schreef na de breuk in de relatie tussen hem en Marianne.
Marianne vertelde de NRK, dat zij begin jaren '60 met een Engelse schrijver op het eiland Hydra woonde. Op Hydra zochten artistieke hippies uit Europa in die jaren elkaar op. Toen Marianne moest bevallen van haar eerste kind, ging zij voor de bevalling terug naar Noorwegen.
Daarna kwam Marianne met de baby terug naar Hydra, maar… de vader van hun zoontje had de benen genomen. Ze stond er alleen voor. Leonard, die op vakantie op Hydra was, ontfermde zich over Marianne en haar zoon.
Dat is het begin van een intense relatie geweest, waar Marianne vol vuur en liefde op de NRK over vertelde.
Eenmaal gedrieën aangekomen op Leonards geboortegrond, startte Leonard een wereldtour. Hij weerstond de mooie vrouwen niet die naar zijn concerten kwamen…
Marianne ging met haar zoon terug naar Noorwegen. Leonard beloofde beterschap, Marianne en zoon vlogen terug naar Canada, maar Leonard verviel in dezelfde verleiding. Marianne pakte voorgoed haar biezen. Tot haar dood woonde Marianne in Noorwegen, waar zij een paar maanden geleden overleed aan leukemie.
Op haar sterfbed vroeg zij Jan Christian Mollestad, een goede huisvriend, of hij aan Leonard een bericht wilde sturen dat zij op sterven lag. Want, hoewel Leonard en Marianne niet meer samenwoonden, was het nooit "uit het oog, uit het hart". Marianne trouwde na de breuk met een Noor en Leonard had een nieuwe partner. Maar Marianne bleef zijn muse.
Leonard wist, toen het bericht over Marianne's sterfbed hem bereikte, dat zijn einde ook naderde. Hij schreef aan Marianne deze afscheidsbrief:
"Well Marianne it's come to this time when we are really so old and our bodies are falling apart and I think I will follow you very soon. Know that I am so close behind you that if you stretch out your hand, I think you can reach mine.
And you know that I've always loved you for your beauty and your wisdom, but I don't need to say anything more about that because you know all about that. But now, I just want to wish you a very good journey. Goodbye old friend. Endless love, see you down the road."
Marianne stierf twee dagen na deze mooie woorden van Leonard aan haar.
Mollestad schreef na het overlijden van Marianne aan Leonard het volgende:
"Your letter came when she still could talk and laugh in full consciousness. When we read it aloud, she smiled as only Marianne can. She lifted her hand, when you said you were right behind, close enough to reach her. It gave her deep peace of mind that you knew her condition. And your blessing for the journey gave her extra strength.
In her last hour I held her hand and hummed 'Bird on a Wire,' while she was breathing so lightly. And when we left the room, after her soul had flown out of the window for new adventures, we kissed her head and whispered your everlasting words: So long, Marianne."

So long, Leonard. Thanks for your beautiful songs.