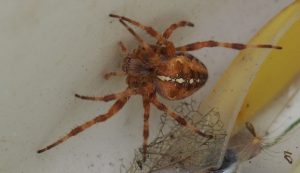 We zijn weer op honk uit Noorwegen.
De was is gestreken, de broeken zijn bijna weer in de was gezet (broed daar maar eens op), maar…. de tuin is nog een rimboe.
Ik kan natuuuuurlijk niet zomaar 6,5 week Noorse lucht opsnuiven zonder gevolgen. "There is a price to be paid". Die rimboe dus.
Gelukkig kwam Sebastiaan de Spin mij opvrolijken gisteren.
En Henny. Met haar heb ik maandag bramen geplukt. Die hebben het nu ijs- en ijskoud in de vriezer.
Dinsdag waren wij op het super gezellige 50-jarige-trouwgeest van Ab & Ine en vandaag met Henny op de fiets langs de wilde-bloemen-stroken op Wieringen.
Dát is een cliffhanger, want ik heb ook nog Noorse blogs om af te maken!
Die wilde bloemen? Die krijg je te zien, hoor! Met vlinders!!