Menno & Merik drogen tranen
Op 1e Paasdag lopen we nog snuffend met onze ziel onder de arm, nu Arka! uit de box is. We gaan uit eten met Jaap & Anneke en daar wordt het gehalte zout er al niet beter op.
We twijfelen of we na afloop nog naar Menno & Erik gaan in De Drom.
Thuis uitsniffen of… "Nee", zegt Anneke, "ga nu maar naar die mannen! Daar krijgen jullie geen spijt van"!
En dat klopte helemaal!  Wat een stem heeft die Merik en wat kan hij er véél mee doen.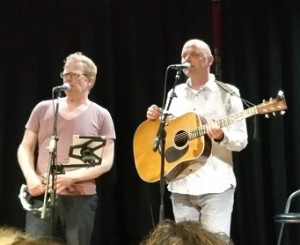 Menno Bruin en Merik Spitteler maken al muziek samen vanaf de middelbare school. Aan het begin van hun samenwerking speelden zij repertoire van the Everly Brothers, Simon and Garfunkel en The Beatles. Deze muzikale helden vormen nog steeds een grote inspiratiebron!

Muzikale reis
Ook eigen composities stonden, en staan nog steeds, in een hoog vaandel bij Menno en Merik. Na talloze optredens in binnen- en buitenland is er een theaterprogramma gemaakt getiteld "Can't Tear Us Apart" wat verwijst naar een eigen liedje van het duo. In dit programma namen de heren ons mee op een bijzondere muzikale reis.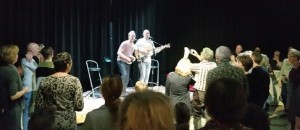 Tweestemmig
De mooiste songs tweestemmig met een gitaar en een tambourijn op een prachtige manier uitgevoerd. Na vele jaren waren zij terug in de Drommedaris. Een duo dat al 35 jaar samen is!
Na de pauze werden de stoelen weg gesleept en gingen de voetjes van de vloer in De Drom.
Het was een fraaie muzikale afsluiting van 1e Paasdag, na een Elburgs tintje, zie https://www.nardieshuis.no/2016/03/28/elburg-is-aaltiet-n-mooi-ploossie-uwes/ en een zoutig diner…